Cross country skiing
A sport that allows you to be outdoors, enjoy the benefits of nature, abandon stress and recharge.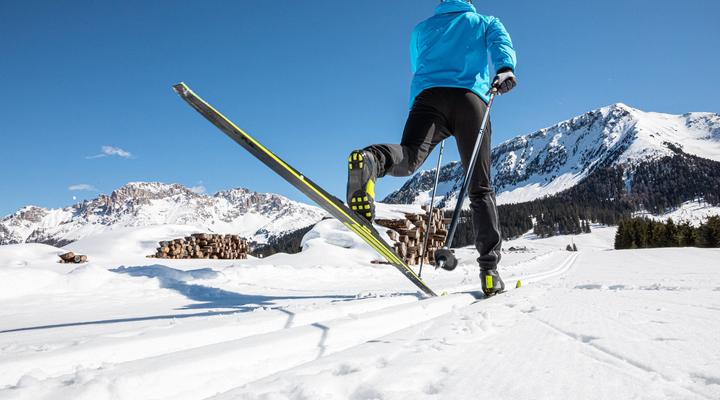 Val di Fiemme is an important reference for cross-country skiing, it has hosted three FIS Nordic Ski World Championships, annually gives space to the Tour de Ski, Nordic combined competitions and Marcialonga (Wordloppet circuit) and will be home to the Winter Olympics Milan Cortina 2026.
Cross-country skiing is a complete sport that allows you to work on the muscles and train the heart and lungs, improving their performance.
The activity is based on advancing on the snow by coordinating the movements of skis and poles.
There are two techniques: the classical technique and the free technique. The main difference is in the steps and thrusts.
Cross-country skiing was born from the need to move on the snow in search of food.
WHERE TO PRACTICE CROSS-COUNTRY SKIING IN VAL DI FIEMME?
Cross-country stadium of Lago di Tesero
At 900 meters above sea level, the route develops on a 3.5 km ring with challenging and technical slopes. You can also continue on the Marcialonga track connected to the cross-country center.
In addition, in the area there is also an outdoor ice skating rink, a skate rental and ample free parking spaces.
Sports Center Lago di Tesero
Tel. 0462 814064
Email:info@centrodelfondo.com
Cross-country ski center of Passo Lavazè - Oclini
Passo Lavazè is located at 1,808 m asl.
The natural environment where the cross-country ski tracks are located is unique. The panorama gives way to a wonderful mountain area in the Dolomites, a Unesco World Heritage Site, you can see the Latemar, the Catinaccio, the Corno Bianco, the Corno Nero and the South Tyrolean Alps
80km of slopes that from Passo Lavazè arrive at Passo Oclini and for those who want to continue it is possible to reach the Sanctuary of Pietralba, (Nova Levante in South Tyrol).
In addition, the Skicrosspark, a 500-meter course with parabolic curves, descents with bumps and continuous changes in slope will allow you to improve your technique.
There are numerous free parking spaces, ski rental, the cross-country ski school, the Greta & Gummer playground for the entertainment of the little ones, some mountain huts and bars and various paths for walks in the snow on foot or with snowshoes.
Lavazè S.r.l project
Marcialonga track
The route of the famous Marcialonga, an Italian cross-country skiing race in classic technique that takes place on the last Sunday of January in the Fiemme and Fassa valleys.
The Marcialonga route is largely (16.4 km) available throughout the winter season and is accessible free of charge in the valley from any town along the route.