Ski areas in Val di Fiemme
The Val di Fiemme-Obereggen ski area includes five areas for alpine skiing and two cross-country centers and is the fifth largest ski area in Trentino.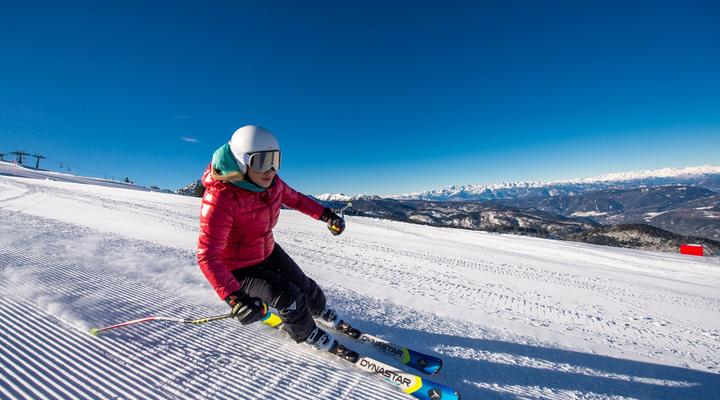 Val di Fiemme is a splendid valley with numerous ski areas for a total of over 100 km of slopes, 50 modern ski lifts, programmed snowmaking networks, trained ski instructors, equipped snow parks, two sledge runs, ski bus services, many events and, last but not least, the charm of its territories.
The skipass allows you to ski on the snow of Alpe Cermis in Cavalese, the Ski Center Latemar with access from Obereggen, Pampeago and Predazzo, Bellamonte on Alpe Lusia, Passo Rolle ,Passo Lavazè and Passo Oclini. The ski pass also offers free admissions and discounts for various night activities, swimming pools and skating.

FUNIVIE ALPE CERMIS S.P.A.
Tel: +39.0462.340490
email: info@alpecermis.it
Website: www.alpecermis.it
OBEREGGEN - OBEREGGEN LATEMAR S.P.A.
Tel 0471.618200
e-mail obereggen@latemar.it
Website: www.latemar.it
PAMPEAGO - INCREMENTO TURISTICO ALPE DI PAMPEAGO - I.T.A.P. S.P.A.
Tel 0462.813265
e-mail info@latemar.it
Website: www.latemar.it
PREDAZZO - OBEREGGEN LATEMAR S.P.A.
Tel 0462.502929
e-mail predazzo@latemar.it
Website: www.latemar.it
ALPE LUSIA - MOENA
Tel. +39 0462 573207
E-mail: moena@alpelusia.it
Website: www.alpelusia.it
ALPE LUSIA - BELLAMONTE
Tel. +39 0462 576234
E-mail: bellamonte@alpelusia.it
Website: www.alpelusia.it
PASSO ROLLE - SAN MARTINO DI CASTROZZA
Tel.: +39 0439 68204
email: info@sanmartinorolle.it
Website: www.sanmartinorolle.it