Amusement parks
Amusement that no child can resist. An opportunity for fun for the little ones but also for their parents.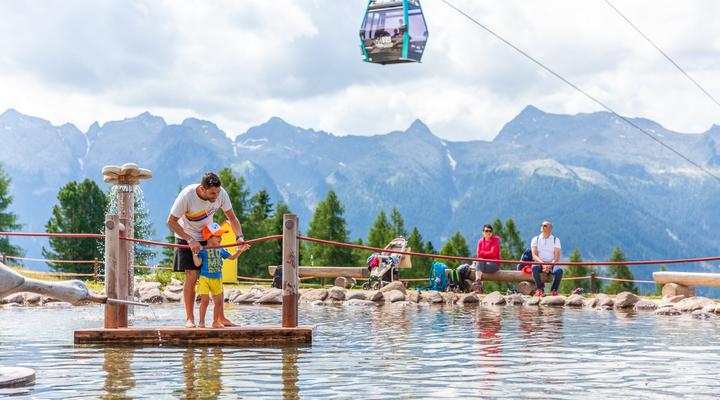 THE GIRO D'ALI OF BELLAMONTE
It can be reached with the Bellamonte 3.0 cable car, going up from Predazzo.
A park with water games where you can cross the pond with the raft, pass over suspension bridges, floating games and waterfalls. There is also a path in the woods led by a playbook in search of Frainus, a prehistoric bird.
LATEMAR ANIMATED MOUNTAIN
From Predazzo you go up with the Predazzo-Gardonè cable car. Walks for families who want to explore nature with fairy tales, play-books and interactive games. There are two thematic trails proposed: the Forest of Dragons and the Path of the Distracted Shepherd. Not far away is the Alpine Coaster Gardonè, a bob on a monorail that whizzes through the woods.
CERMISLANDIA
Going up with the Alpe Cermis cable car you reach the kingdom of Cermislandia, ample space for fun in the vast playground with various activities and the opportunity to enter a small lake.
RESPIRART
Once you reach the departure point of the Agnello chairlift or the parking lot of the Tresca chairlift in Pampeago, a 3 kilometer loop with 27 art installations starts. A walk at high altitude suitable for families who interact with the Dolomite peaks of the Latemar.
GIOCABOSCO
Capriana's "Gioco del Bosco", where fairy tale characters Alice, Peter Pan, Pinocchio and Pippi Longstocking will guide you through the fun wooden stations and accompany you in imaginative activities.
GRETA AND GUMMER PARK
At Passo Lavazé there is a slope for descents by rubber dinghy with a treadmill to go up and a playground equipped for the little ones, an area for volleyball, a path for bicycles, a new inflatable, a relaxation area for parents.
THE HIDDEN WOOD
BOSCO NASCOSTO. Right above the built-up area of the village of Daiano, you can discover the friends who are waiting for you and hide among the firs and larches in the paths of various lengths.
ADVENTURE PARKS ACROPARK IN VAL DI FIEMME
ADVENTURE DOLOMITES at Castello Molina di Fiemme
SUAN PARK in Ziano di Fiemme