Do you want to learn to ski?
If you have never experienced the thrill of sliding on the snow, you can finally do it here in Val di Fiemme during your winter holiday. Or you can entrust your child to a ski instructor, while he learns you relax.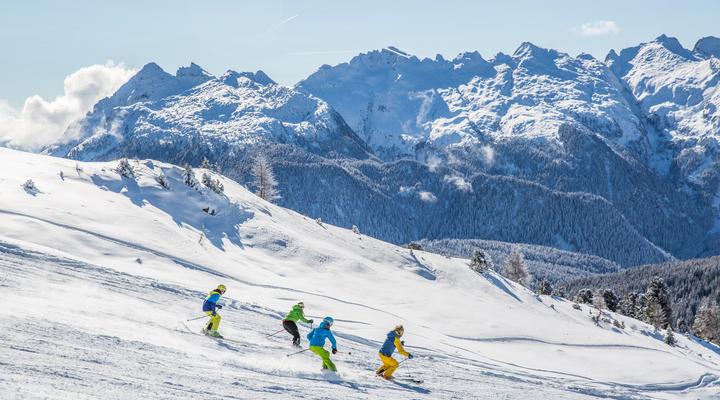 In Val di Fiemme you will find ski schools with professional instructors who will help you in your first steps on the snow. School camps, easy and baby slopes to gain confidence.
Now you just have to choose which sport to learn: alpine skiing, nordic skiing, snowboarding, carving, telemark.
Bring your equipment with you or let the experts advise you in the numerous rentals in the area.
Now you are ready to ski, remember that everyone has their own times to learn, a different physical preparation, do not expect too much from yourself and above all have fun.
Passo di Lavazè cross-country ski school
Tel: +39 0462 231830
E-mail: scuolascilavaze@virgilio.it
Highly professional instructors in teaching cross-country skiing in all techniques and for all levels. Specialized in teaching children . They organize excursions with snowshoes along the paths of the Lavazè Pass with tastings of traditional dishes in the mountain huts.
Cross-country Ski School Lago di Tesero
Tel: 347 7744885
E-mail: info@fiemmeski.it
The teachers of the school are specialized in teaching children, the disabled and the professionals. To facilitate the learning of children aged three and over, there are also special game lessons.
Inside the Center it is possible to rent equipment and to go skiing in the Cross-Country Stadium or on the Marcialonga track.
Italian Ski School Cermis Cavalese
Tel. +39.0462.341303
Email: info@scuolascicermis.it
Website: www.scuolascicermis.it
The school is located on Alpe Cermis, there are slopes suitable for all levels of preparation, from beginners on the various kiddy slopes to experts on the Olimpia slope. For children there are special courses like approach to skiing (4-5 years), with a kindergarten in the snow at Cermislandia. The ski school is equipped with a moving belt adjacent to the ski slopes. The school organizes individual lessons (1-4 people) or group courses, carving, telemark, snowboard courses. Competitive courses and for aspiring masters.
Alpe di Pampeago Ski School
Tel: +39 0462 813337
E-mail: scuola@scuolascipampeago.it
WebSite: https://www.scuolascipampeago.it/
The school is made up of 30 instructors specialized in all disciplines Ski, Snowboard, Telemark, Freeride, Freestyle who will follow you in learning the technique, from the first steps up to the high level, from children to adults, with professionalism, fun and in total safety. For children aged 3 and over, there is a fantastic kindergarten-miniclub on the snow with lots of games, located at the arrival of the Latemar chairlift.
Italian Ski School Alta Val di Fiemme
OFFICE BELLAMONTE – CASTELIR ALPE LUSIA Tel: +39 0462 576164
OFFICE PREDAZZO – SKI CENTER LATEMAR - LOC. GARDONÈ Tel: +39 389 3492870
LATEMAR 2200 CABIN CAR DEPARTURE Tel: +39 0462 502999
Email: info@scuoladisci.net
Website: https://www.scuoladisci.net/
You will find Ski, Snowboard and Telemark Instructors, National Instructors and Federal Coaches, constantly updated. Present in the ski areas of Alpe Lusia and the Ski Center Latemar.